How to Run Lead Ads As Part of Your Digital Marketing Strategy
Want lower cost per leads on paid social platforms like Facebook, Instagram, TikTok and Snapchat? But struggling to get enough leads for your budget?
In this video, I'm going to share with you a simple ad format you can use to get more leads with a lot less cost so stay tuned.
Hi I'm Ryan Whiteside, Director of Digital Marketing at Two Wheels Marketing.
Whether you're a dentist, chiropractor, lawyer or other service based business, you want one thing with your digital marketing budget… leads, leads and more leads.
Yes, you want quality leads, but perhaps you've run campaigns and just aren't getting enough or even no leads at all.
When this happens, all is not lost my friend. In fact, there's a little known ad type you could be running that can significantly cut down on your cost per lead. What is it?
It's called Lead Ads.
These are ads that, instead of taking someone to your site or landing page after they click, keep you on the social media platform where they can complete a form without ever having to go to your site.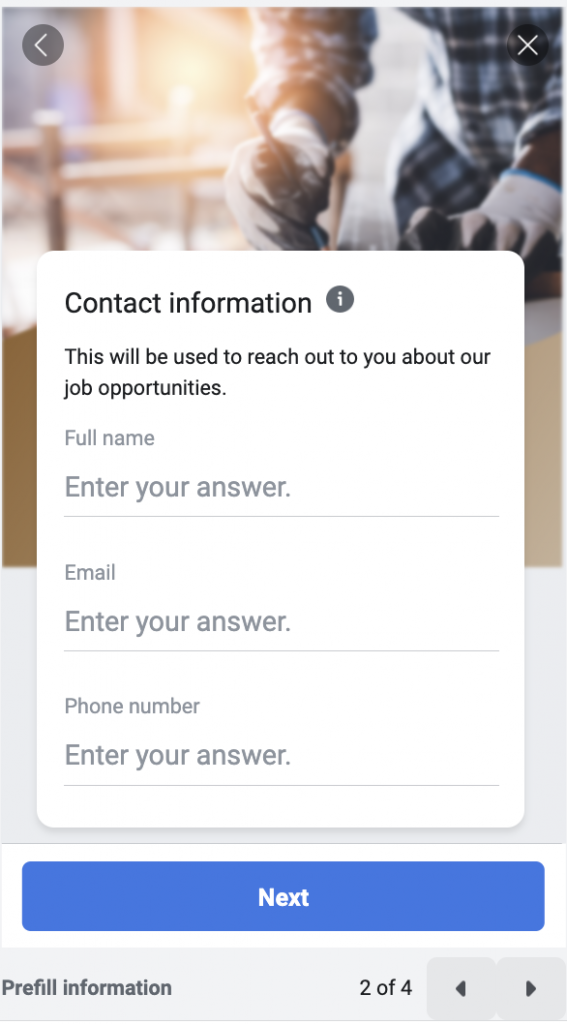 You can then use a third-party tool like Zapier to get an email notification, connect to a CRM, add to an email drip sequence and more.
Without a third-party too, all of these platforms pretty much only allow you to manually download the leads in the ad platform. That is definitely one big drawback to using lead ads, but the cost if using Zapier can be well worth it, especially as it compares to what you're paying for the Facebooks ads themself.
Lead ads are available on all of the major social media sites, with some minor differences.
At the time of this video, Snapchat doesn't have a thank you message after you submit. It simply closes the form.
Facebook, Instagram, and TikTok have this thank you page, and it's great because it allows you the opportunity to then send someone to your site, download a PDF or guide you promised them, or whatever other strategic place you want to send them.
So you can capture their information like name/email/phone from the form, but then you can also send them to the site afterward which can be a really nice combination.
What Makes Lead Ads Work So Well?
The reason Lead Ads perform well is a variety of factors. First, it's much easier for the user to submit their information.
With a normal ad, they click the ad, which takes them to a landing page on your site, and then they manually type in their information.
With a Lead Ad, they see the ad, their information is usually pre-filled already because the platform already knows what their name-email-phone is when they opened an account. The user doesn't have to wait for a page to load. It's all right there in the platform, so it loads really fast.
Bottom line, they can provide their information in a matter of seconds if they have an interest.
Lead ads are especially a great option if your site is limited in what you can do. If your landing page takes awhile to load, is cluttered, isn't the most mobile-friendly, etc. this can hurt conversion rates. And again, these aren't issues you're dealing with when it comes to Lead Ads.
So What Issues Have We Found Running Lead Ads?
It's not all rainbows and sunshine with Lead Ads. There's a reason why we often use a combination of lead ads and sending people to the site.
For starters, the third-party Zapier use contributes to some additional ad costs. But besides that, generally we've found leads to be of lesser quality than the more traditional leads.
This makes sense, as someone going to your site and manually typing out their information has put in a lot more effort, and is more committed than someone who's information was pre-filled and they basically just have to hit submit.
We've worked with clients who tell us they have a harder time getting the leads communicate back with them, whether it's phone, email or text.
Often, the cost-per-contact reached is still better than the normal, send to your site leads. Still, it takes a good outreach process to make sure you're not wasting too much time on unresponsive leads. Or a good pre-qualifying question or two to ensure lead quality.
We've actually helped some clients fully automate this process, sending emails and text messages, so they only have to call and follow up with leads that respond.
How to Integrate Lead Ads into a CRM
Now that you know the benefits and pitfalls, here's how to integrate with a CRM and other tools with Zapier.
First, you'll connect the Facebook Lead Ads app...

Zapier provides a step-by-step dropdown where you'll select your ad account, Facebook page, and and the Lead Ads form you want to use. (Note: Zapier will automatically create the "Webhook URL" you see below)...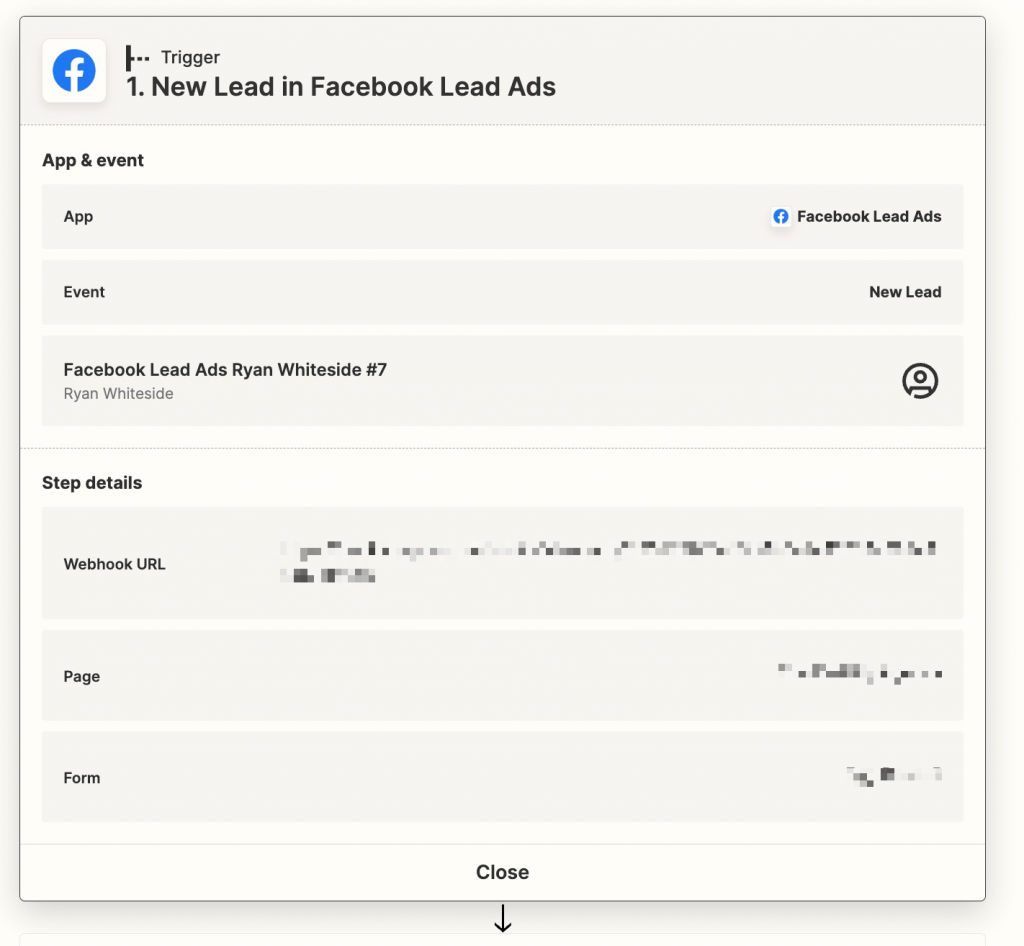 In Step 2, you'll select the CRM you want to use, or in this case, we're connecting with ActiveCampaign which is a marketing automation tool. This is where you'll need to match the Facebook Lead Ad form fields with what's in ActiveCampaign.
This should be mostly straightforward (e.g. Email Address -> Email, Full Name -> Full Name, Phone Number -> Phone Number, etc.)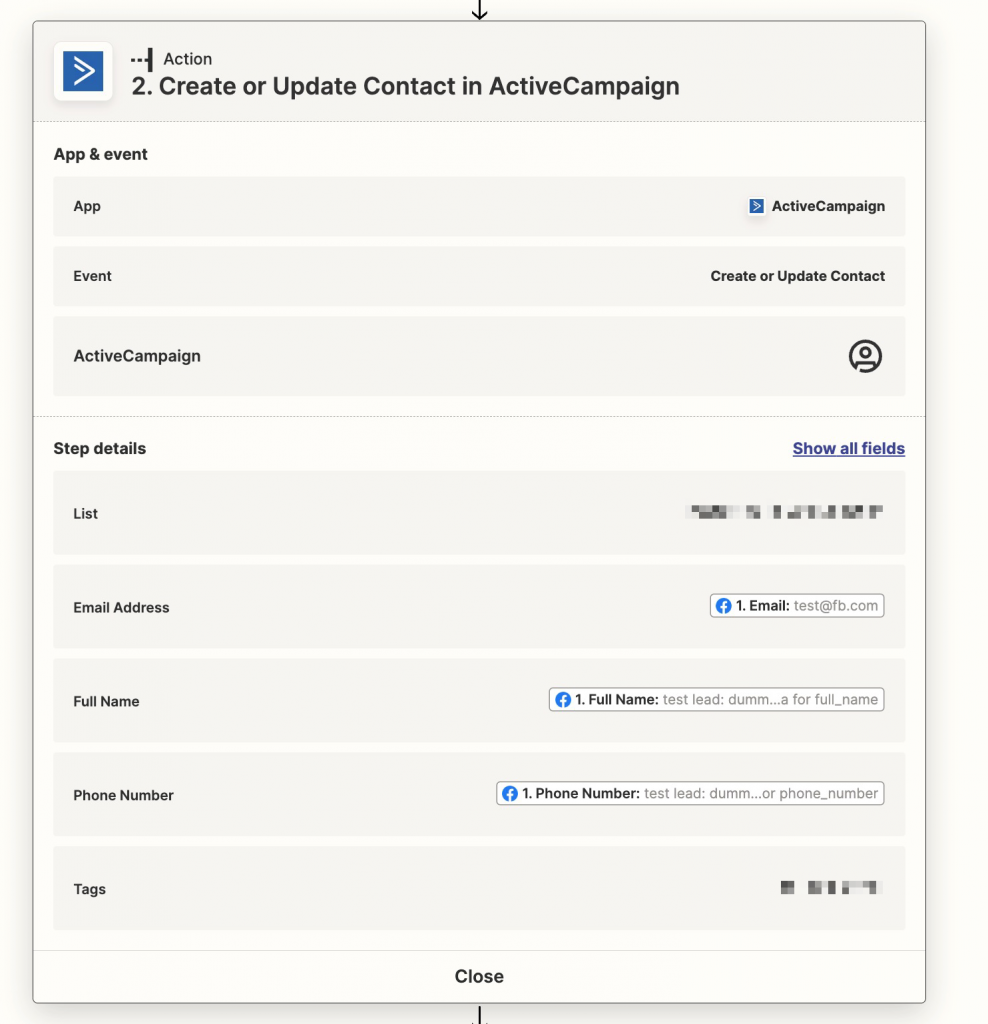 Optionally, you can integrate multiple CRMs or tools at the same time. You can also set an email notification alert with each lead that comes in, which you're unable to do in Facebook's platform by default.
Here we've connected it to Smartsheet, which keeps an updated spreadsheet of all the leads that have come in. With each new lead, it adds a new row to the top of the spreadsheet...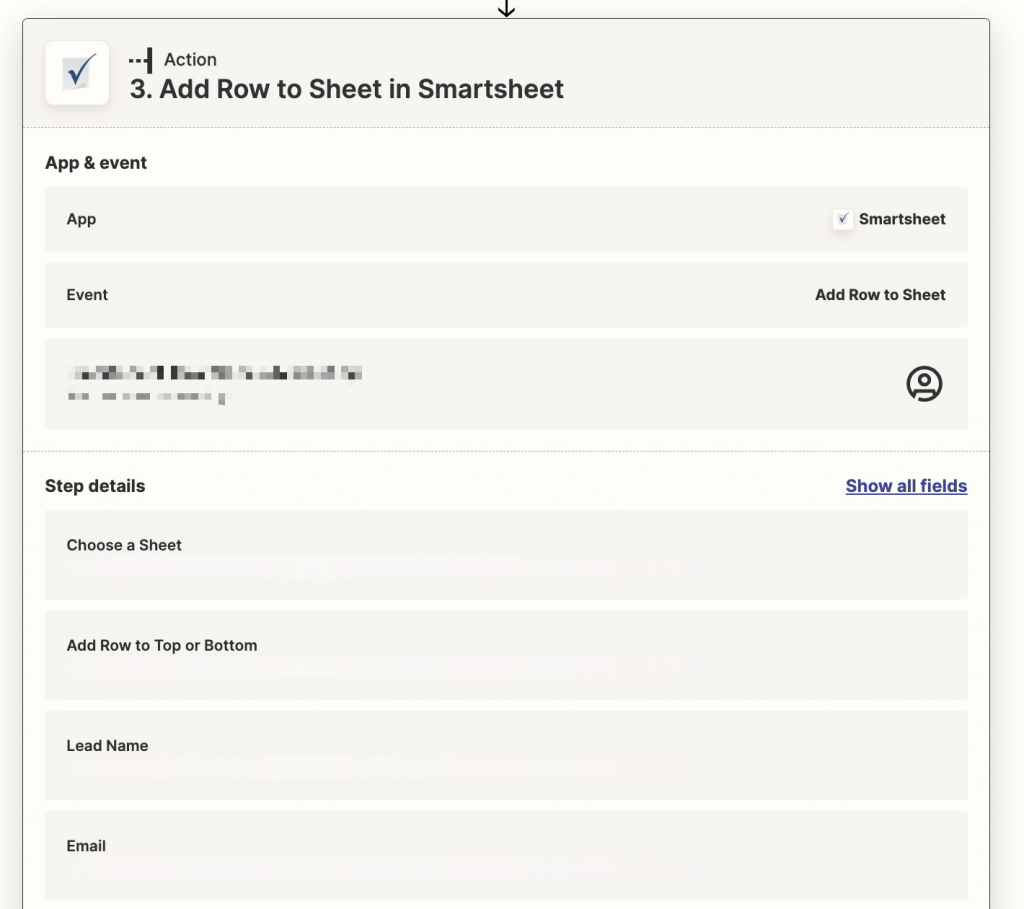 After that, you save and turn on your Zap and you're ready to go!
Setting Up TikTok Lead Ads
When it comes to setting up TikTok Lead Ads, first, if you want the leads to integrate with a CRM, get an email notification, etc., see the section above.
Below is a quick walkthrough of creating the lead ads form in the TikTok ad platform...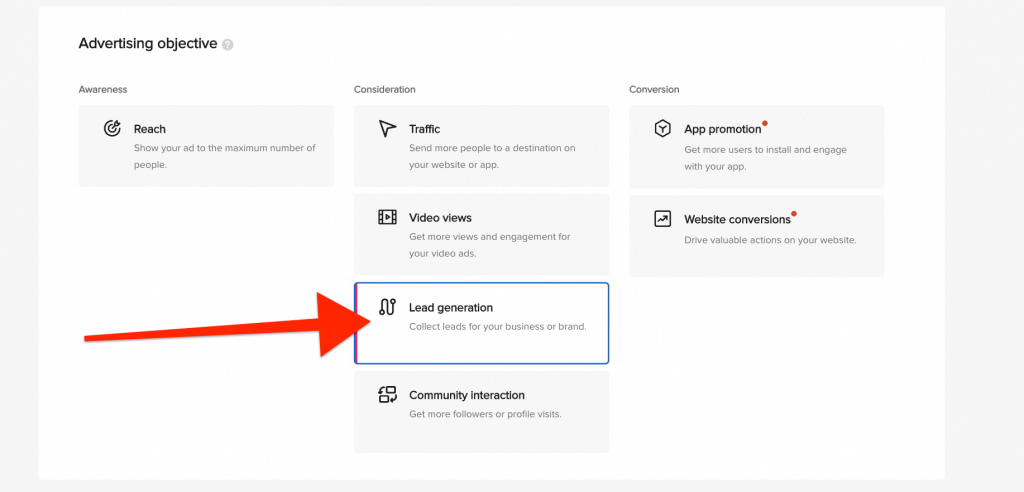 You'll then setup your campaign and ad setting targeting like any other ad campaign. The unique step with lead ads will be at the ad level, where you'll need to create an "Instant form"...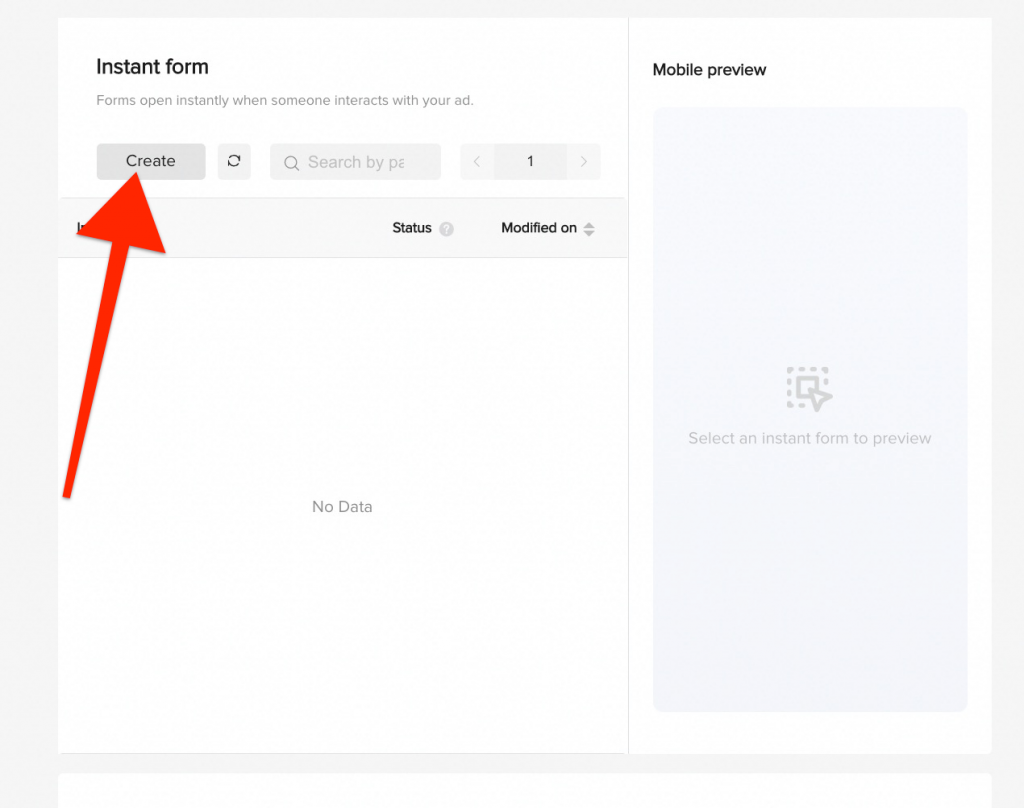 You'll have several options, but essentially you're...
adding headlines, copy and an image
creating the questions
adding a link to your privacy policy (required)
including copy and a link on the Thank You Screen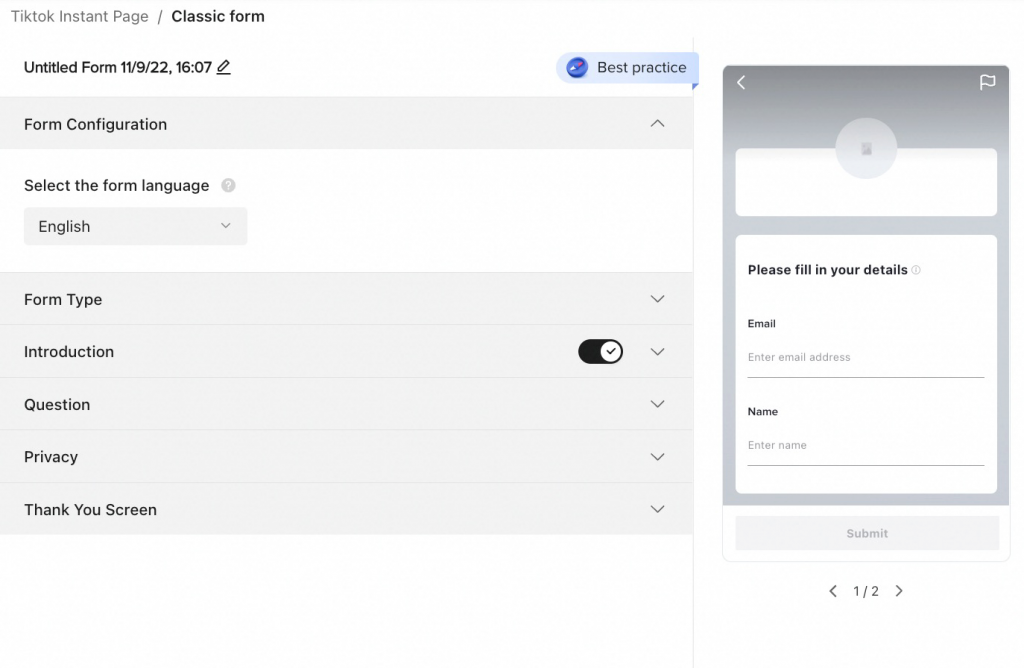 With the questions, the basic user information like name, email and phone are pre-populated since TikTok already has that information when someone opens an account.
The Thank You Screen is a great opportunity to get people to go to your website, or deliver the asset (guide, checklist, etc.) that enticed them to enter their information to begin with.
Finally, everything else should be the same like uploading an ad image, writing a description, etc. You won't have to put in a URL, obviously, because TikTok will open the form you just created instead of taking them to your site.
Setting Up Facebook Ads Lead Ads
Setting up Facebook Ads Lead Ads are a breeze and Facebook makes it really easy to do so directly on the ad level. However, first you'll need to ensure that at the ad set level, you select "Instant Forms".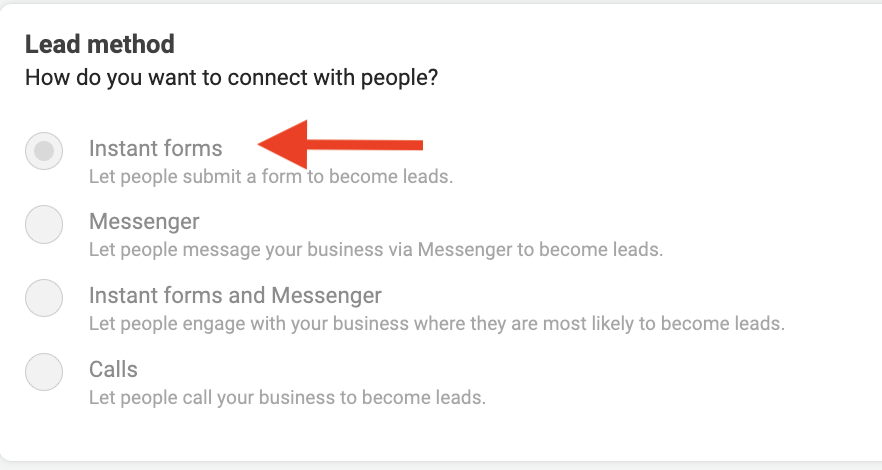 Once that's selected, you just create your Facebook Ads a per normal with associated headlines, primary text, images/video, and etc. The only difference with lead ads is that you are going to create the form while you're creating the ad by finding the "Instant Form" section and clicking "create new".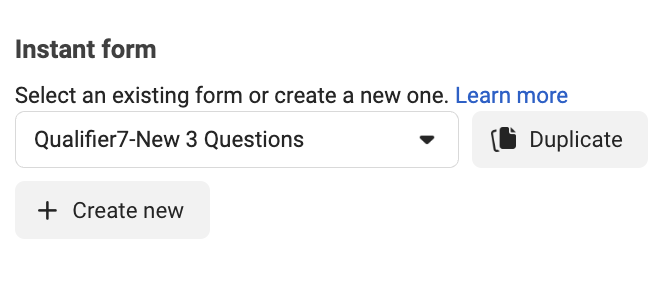 From there, you can customize the form and populate it with the pre-qualifying questions that make the most sense for your business. Facebook Ads provides multiple types of questions you can use from multiple choices, short answers, conditional questions and even appointment requests. You'll want to customize the form with your branding and think through the best types of questions that will yield the best types of leads for your business.
Don't Forget: Make sure you have a privacy policy on your website, as this is a requirement for Facebook Lead Ads.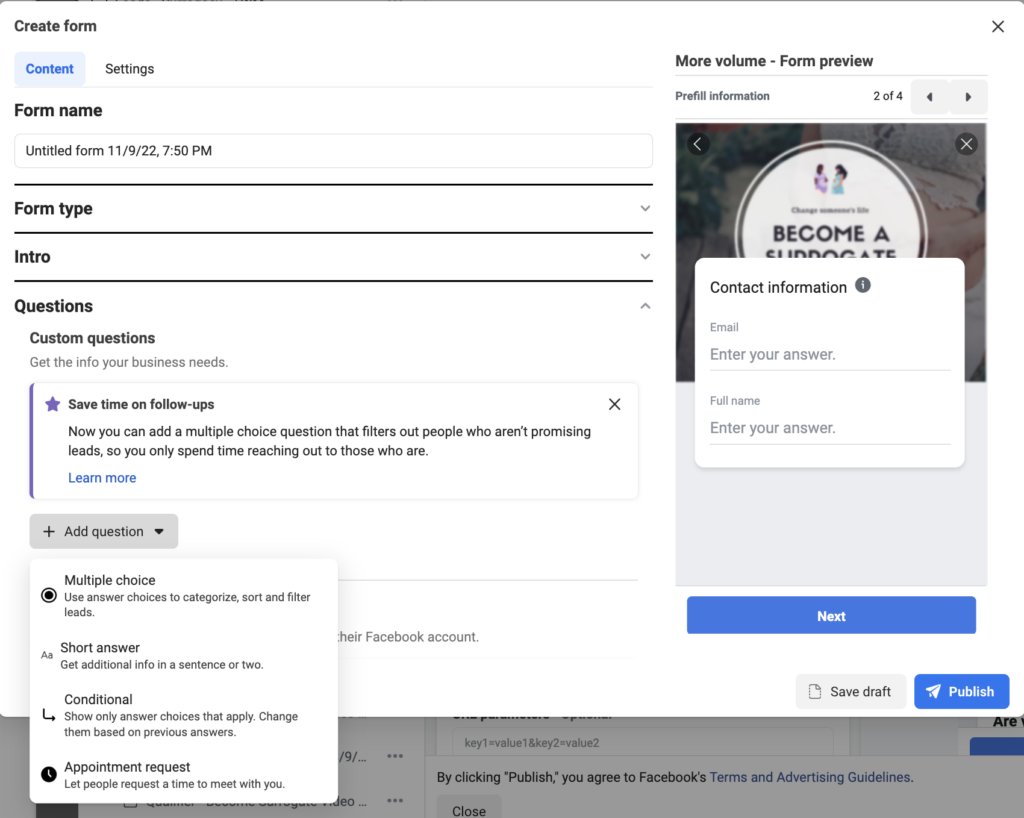 After creating the form, you're ready to launch your campaign and start generating leads directly from Facebook Ads, without someone having to leave Facebook!
Setting Up Snapchat Ads Lead Ads
With Snapchat Ads, again, our campaign objective is going to be Lead Generation...
In the Ad Set, you set the targeting as you normally would. When you create an ad, you'll see a "Design Your Form" section where you'll create your form step-by-step...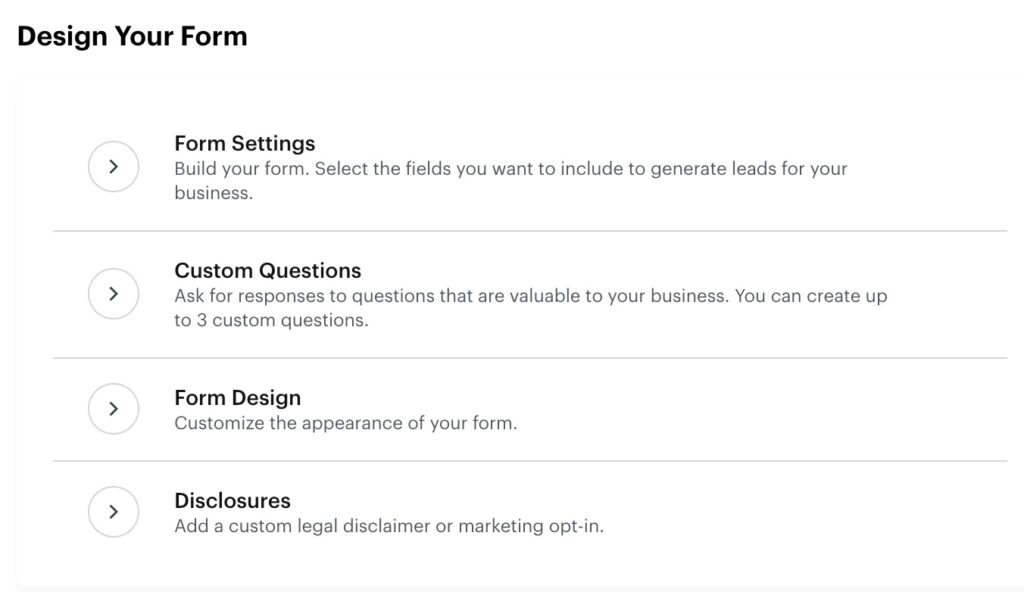 One important point, currently Snapchat does not support a "Thank You Screen". As soon as someone submits the form, the window closes and they go back to where they were before engaging with your ad.
Google Ads Lead Ads
Up until this point we've talked only about lead ads for paid social platforms like Facebook, TikTok and Snapchat, but Google Ads also has an option to generate leads directly from their ads in the search results - without a user having to clickthrough to go to a website.
Below you'll see a Google search ad for a local kitchen remodeling company with the lead ad extension (asset) towards the bottom. When a user clicks that "Get Free Kitchen Consultation", a form pops-up where they can quickly and easily enter their information.
Google calls their lead ads, "lead forms", and they are located in the extensions (now called "assets") section of the Google Ads backend. Simply navigate there and click the "+" button to start creating your first Google Ads Lead Form Ad.
When a user clicks the lead form extension, a form pops right up for a user to enter their information. You can set functionality on the backend of Google Ads, so that their contact information (name, email, phone) from their Google Account is pre-filled when they click the lead form extension. This obviously improves conversion rates since a user doesn't have to manually type their information out and can just click submit with their contact information already pre-filled.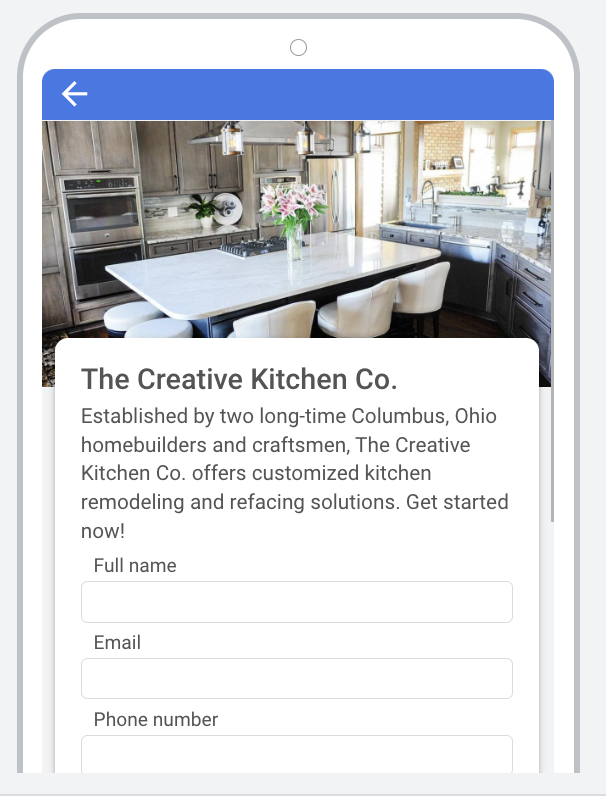 After a user fills out the form, they can still be redirected back to your site to learn more about your business. With Google Ads Lead Form Extensions, you can also use a tool like Zapier to automatically send the leads into your CRM vs. having to download them manually from the Google Ads backend. (Highly recommended!)
Don't Forget: Make sure you have a privacy policy on your website, as this is a requirement for Google Ads Lead Ads.
Summary on Lead Ads
To sum things up, Lead Ads are a great option for testing, especially if you find that your cost per leads are higher than you want sending people to your website.
Overall, you may get lesser quality leads because it's much easier to submit their information. However, if you have a good sales process in place, and if you even can automate some of the initial emails and texts you send to people to weed out the unresponsive people, it can save a lot of time. Because regardless of where leads are coming from, you're going to have leads that are impossible to reach.
Use Lead Ads as another tool in your marketing toolbox. It doesn't (and probably shouldn't) be your only paid social strategy. But especially if you have good tracking from lead to sale, it's worth a test to see if…
you can get lower cost per lead
enough of those leads are turning into customers
Give Lead Ads an experiment if it's right for you and it could be a nice supplement to your marketing strategy in the future.
And if you'd like help setting up a lead ads or any other digital marketing campaign, don't hesitate to reach out to us.