Paid Search or PPC Marketing can work as a stand alone marketing strategy to help drive individuals to your site, but we view PPC as part of the Digital Marketing framework along with SEO and Social Media to provide a well-rounded marketing approach.
All PPC campaigns are geared towards delivering you a positive return on investment and to help meet your marketing objectives. New keywords discovered during the course of the PPC campaign can help provide ideas for terms to target for SEO and subsequently Social Media. Likewise, data from your SEO campaign can help jump start and enhance your PPC marketing campaigns. We specialize in PPC Marketing and Management on Google Adwords & Bing Ads.
Our PPC Management Services Include
Keyword Research
To determine the most effective keywords for your business.
Competitive Analysis
We research keywords your competitors are bidding on and determine if similar strategies can be used for your business.
Ad Copy Creation
Testing multiple versions of ads to help increase click through rates and conversions.
Landing Page Optimization
Bidding on keywords and creating ads is half the battle. Having a landing page that is relevant and "converts" visitors is essential to success. We can provide suggestions on calls to action and page format to help increase conversions. If needed, our team will create landing pages designed to help increase leads or drive sales from PPC initiatives.
PPC Campaign Optimization
Continual adjustments to bidding, ad copy and keywords to ensure campaigns are maximizing your investment. "Setting it and forgetting it" is not an optimal strategy and can waste money.
Conversion Setup & Tracking
We help you setup conversion tracking so that you know which keywords, ad copy, and campaigns are most effective at delivering conversions. We work with your internal teams to understand how those conversions impact and influence your bottom line.
Social Media PPC (Facebook Ads + LinkedIn Ads)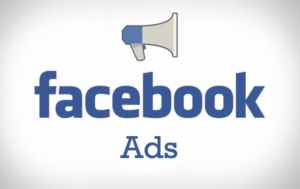 Ad campaign setup including targeting, ad messaging, and inclusion of graphical elements. Ongoing campaign optimizations and adjustments to targeting, bids and messaging on major Social Media PPC platforms. Monthly campaign reporting displaying engagement metrics (likes, reach) impressions, clicks and campaign conversions. Learn more about our full paid social media services.
Why PPC?
• Reach the right audience with high "user intent" – When a person conducts a search on Google, that person is "actively" looking for the product or service as opposed to "passively" seeing an ad on Facebook, Print, TV, etc. We are targeting your customers as they actively look for your services or product at the time they need it or their questions answered.
• Search Engines are THE #1 Place for Information – People go to search engines for information on products or services before they will ask a friend or significant other: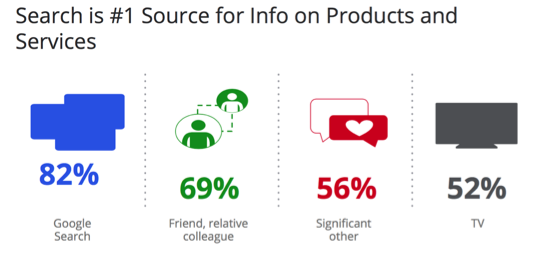 • Measurable – See how many people saw and clicked your ad, total people taking action (phone calls, contact forms, sales) and measure return on your investment.
• Pay Per "Click" – You only pay when someone "clicks" on your ad. If they see your ad, but don't click, you do not pay. Hello free brand awareness!
• Instant – PPC campaigns can be setup very quickly and targeted traffic can be driven to your site immediately.
• Control – You set your budget to control costs. If you can only invest $1,000, we can cap the marketing spend at $1,000. Have busy or slow times of the year? We can increase budget during busy season and lower investment during slow times of the year.