Coronavirus Impacting Your Digital Marketing? Here Are 7 Things to Consider
As the Coronavirus affects all of us, you may be wondering how will this impact your digital marketing strategy?
No one has an exact playbook for what to do, and we're all figuring it out as we go.
That said, as always with digital marketing, data can steer a lot of your decision making. But in addition to that, it's helpful to understand some key digital marketing fundamentals as you chart your path forward.
Below, we've outlined 7 things to consider with your digital marketing campaigns, in the hopes that you can make the most out of this unprecedented time in our history.
1) Changes in Search: PPC (Google Ads, Bing Ads)
People are still actively searching online, and are online more than ever.
Your initial instincts may be to scale back on Google/Bing search ads, however, depending on your industry, it may just require a shift in strategy.
Here's why...
With Google Ads and Microsoft (Bing) Advertising, you're only charged when someone clicks your ad. If they see your ads and don't click on it, you are not charged.
What this means is if it's still important for you to acquire customers that are ACTIVELY seeking your products and services, then you may want to keep your search strategy intact during the Coronavirus. More importantly though, even if people are still actively searching, you'll obviously have to monitor the sales or leads from those clicks to determine effectiveness.
For example, if you sell volleyball nets and people are still searching "buy volleyball nets", keeping those campaigns running allows you to continue acquiring those customers that are searching.
What may fluctuate during this time is search volume (the number of people searching for your product or service). Taking the example above, less people may be searching to "buy volleyball nets" because they have other concerns. As a result, you may not need as much budget to capture searcher demand.
Your business may experience the opposite impact from the virus, though.
For example, web conferencing search volume has spiked during this time as more people are working from home...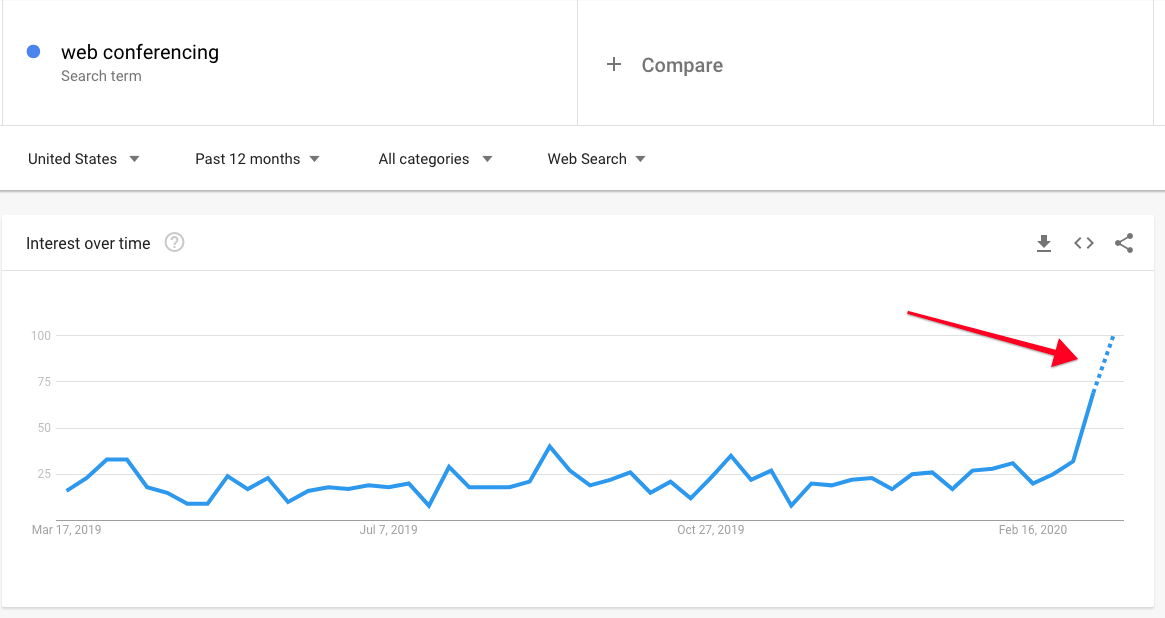 Pro Tip:
Check your "search query" reports during this time on Google and Bing search campaigns. You may see some terms coming through that deal with searches revolved around the Coronavirus. Be sure to "negative" those out so you do not waste budget on terms not relevant for your business at this time. Of course, if your business supports directly or indirectly things associated with the virus, you would stay the course.
In Summary:
Again, the key point to remember on Google is: customers are actively searching for a product or service. Which means if you're able to serve these customers with your products and services, it may make sense to continue letting your campaigns run.
2) Paid Social Advertising (Facebook/Instagram/LinkedIn Ads)
"Top of Funnel" Strategies
The same principles that applies to Google/Bing completely differ for Facebook, Instagram and LinkedIn Ads.
Why?
Because with these sites, visitors aren't actively seeking out your products/services. Instead, you're hoping to catch their attention while they're scrolling through their feeds and stories.
In other words, you're actively seeking them out.
A potential customer may not be in the frame of mind right now to make a purchase. That's why with these platforms, you may need to adjust your strategy. Especially if you notice cost per leads/purchases going way up.
One alternative to consider is doing what marketers call "top of funnel" strategies, or more brand building vs. asking people to purchase your product or service right now.
Instead of running ads directly for sales in a time of uncertainty, you could consider offering helpful information, like:
A free report
A guide
Useful articles or blog posts
Where you can still capture their information now to utilize for a later time when they're more open to purchasing. At that time, you'll be able to reach out to them via email or even remarket to them with a promo or other sales opportunity.
In Summary:
Consider using Facebook, Instagram and LinkedIn Ads for thought leadership in the form of articles, guides, and other helpful information as opposed to ads you may have run previously to Coronavirus that were more sales-centric.
Brand exposure and top of funnel strategies for paid social help you to stay in front of people for when they are ready when the dust settles.
Note: This strategy obviously varies by industry as some online retailers and service-based businesses are seeing demand skyrocket.
3) Reporting/Data Considerations
While it's always important to closely monitor campaigns, it's even more important during these times. That's because everything is less predictable. Don't be surprised if month-over-month or year-over-year comparisons differ from normal.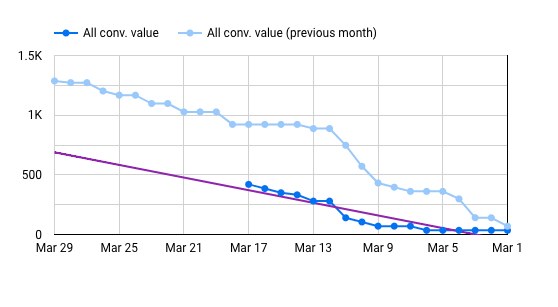 There could be big changes both up and down on…
Cost-per-click
Search volume
Conversion rates
And more
From the initial data we're seeing across our clients in the first week, overall conversion rates have gone down and cost-per-clicks have also gone down slightly. But that very much differs by client and even by campaign.
Consider during this time to have honest conversations about your financial numbers and risk tolerance.
For example, maybe you've always said that you want a 5x ROI on your ad spend. Is that still the case? Or for some reason does that need to change?
4) Campaign Adjustments
Are some areas of your business better suited than others during this time?
For example, one of our clients offers both in-person and at-home tutoring courses. As you may expect, demand for at-home tutoring his spiked while less people are attending school.
Ensure that campaigns are adjusted so you can take full advantage of increased search volumes and higher conversion rates.
If you still want to promote the parts of your business that are harder hit from the Coronavirus, consider ideas for better incentivizing visitors.
For example, you could:
Offer a limited time coupon
Payment plans
No money down
etc.
Just be careful that you're not exploiting fears during this time. While that may lead to short term gains, it may not be a good long term strategy.
5) Remarketing Considerations
Campaigns to closely monitor during this time are remarketing campaigns. Remarketing campaigns are those that show your ads to people who have previously visited your website. If customers are less willing to buy during this time, then bombarding them with ads may not be effective.
Again, let the data be your guide.
If you notice remarketing campaigns underperforming, it may be time to…
Decrease the amount of remarketing ads you're serving up
Change your approach, with either a different messaging or offer
Pause it entirely
Again, now may be a good time to transition some budget from remarketing to top of funnel campaigns to capture leads. But this is assuming your remarketing campaigns drop off. If they're still performing, keep them going!
6) Reaching Offline Prospects Via Online Channels
Were you planning on attending a trade show or conference that was cancelled? We understand that this may have been a big sales opportunity.
In a previous post, we outlined 3 strategies you can use to stay in front of those prospects via online channels.
This may present an opportunity for you to reach the same customers you would have at the event, with a lot less competition and lower costs right now.
7) SEO & Content Strategy
SEO is a longer term digital strategy, where creating ongoing SEO-optimized content can help grow website traffic over time. Starting to develop a regular content writing schedule now will help drive traffic in the long term for when the dust settles several months down the line.
Here's data from our own blog...

Here are 2 other examples from our clients showing how a regular content schedule pays off with much more traffic and subsequently more leads and sales later:
Here we started blogging in July/August last year and have seen traffic really take off 6 months later. Leads have also increased:


Here is another example of long-term SEO content working over time to deliver more traffic and leads/sales:


As for content, this would be a good time to get in front of both existing customers and prospects with thought-leadership content.
This could be in the form of…
Email
Blog post
Social media posts
Video
All the above
The channel of delivery is less important than the message itself.
Even though ongoing content may not lead to short term profits, it's a great long term strategy, which we have seen pay off time and time again. It also helps provide useful information to people during this challenging time to contribute to the community.
Conclusion
If your business is still taking new customers and has the resources, consider keeping search campaigns running and keep an eye on the results.
On Facebook, Instagram and LinkedIn, remember they're not actively seeking out your products and services. You have to be much more considerate to public concerns. Campaigns that have been successful previously may decline because your audience isn't in a buying frame of mind.
Like always, let data drive many your decisions.
While many businesses will need to scale back, especially if their capacity to serve customers is limited during this time - there are plenty of proactive things you can do now to prepare for a brighter future.
Now, we'd love to hear from you. Leave a comment below any tips or questions you have about handling digital marketing during the coronavirus.