Average PPC Conversion Rates by Industry (Updated for 2020)
Updated August 2020
PPC landing page company Unbounce has released an updated PPC conversion rate by industry report for 2020.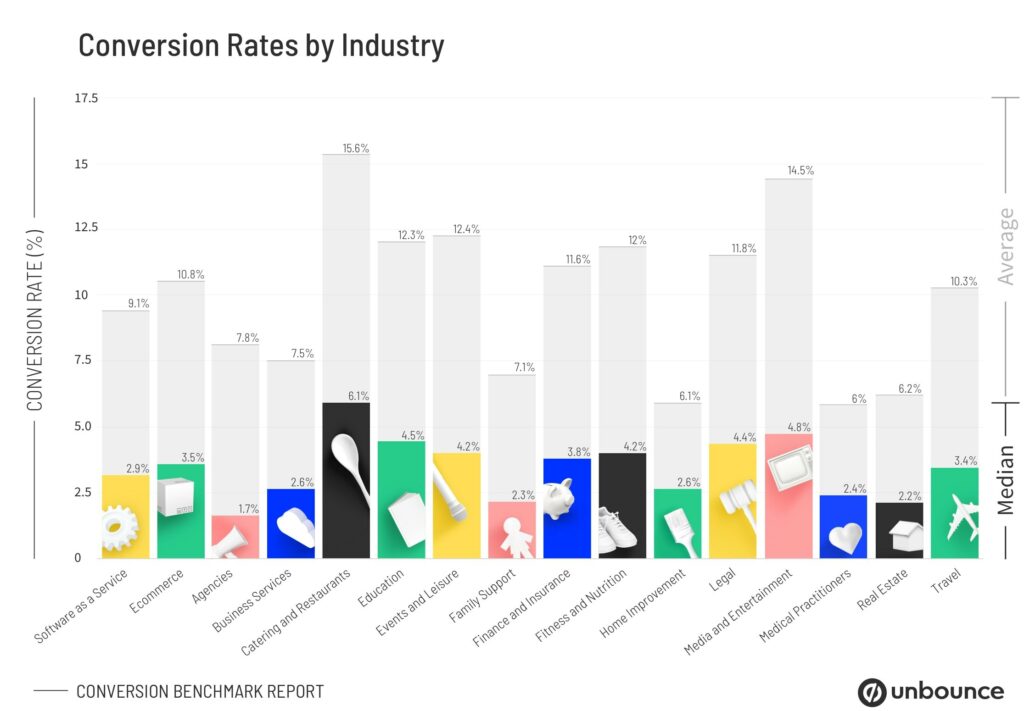 PPC and Paid Social marketing software provider, Wordstream, has released average PPC conversion rates based on its most up-to-date report published in August 2019. Wordstream breaks down a variety of standard PPC metrics by industry including: CTR (click-through rate), Average Cost per Click (CPC), Conversion Rate, and Cost Per Action or Acquisition (CPA).
If you're not familiar with Wordstream, this company provides software and tools to help agencies and companies more effectively and efficiently manage their search engine marketing and paid social campaigns like Facebook Ads. Having been around for over 10 years now, Wordstream is one of the leaders in the search marketing space and has thousands and thousands of data points they can analyze from the PPC accounts that run through their software.
As such, take this, and any report like this, with a grain of salt. We are looking at average PPC conversion rates from just one company's data and not all PPC accounts currently running right now. We would anticipate that individuals using the software are likely on the average to more advanced-end of the PPC marketing spectrum, so these conversion rates may even be a bit higher than all accounts taken in aggregate around the world.
Note: Leading landing page company Unbounce also released their own PPC Conversion Rates by Industry report specifically for "Lead Gen" campaigns. That report is here. And digital marketing platform Acquisio released an Adwords PPC benchmark report here.
PPC Conversion Rates by Industry
The data is broken down by industry, since we know that PPC conversion rates vary by industry: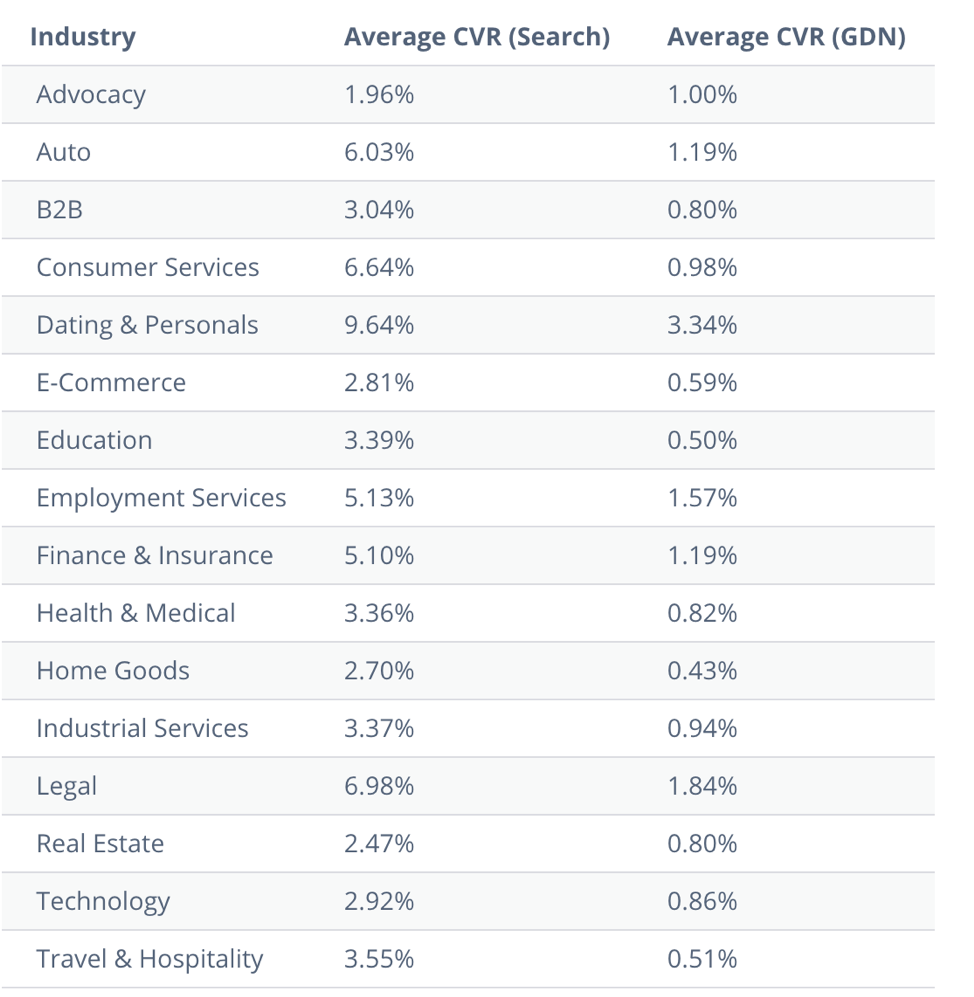 Average PPC Conversion Rates by Network
In addition to breaking out average PPC conversion rates by industry, the report also outlines conversion rates by network on the Adwords platform. Most are familiar with the search network which includes Google search conversion rates and affiliated search engines (otherwise known as "search partners"). The report also breaks down conversion rates for the Google Display network, (GDN) which includes Google's vast network of websites, apps, videos and other placements where your ads can be shown via image or text format.
The average CVR (PPC Conversion Rate) in AdWords across all industries is 3.75% on the search network and 0.77% on the Google Display Network (source). Since the report was last updated, CVR on the search network has increased, while CVR for display has decreased. What could this mean? One sign points to the need for advertisers to pay closer attention to placements and audience optimization.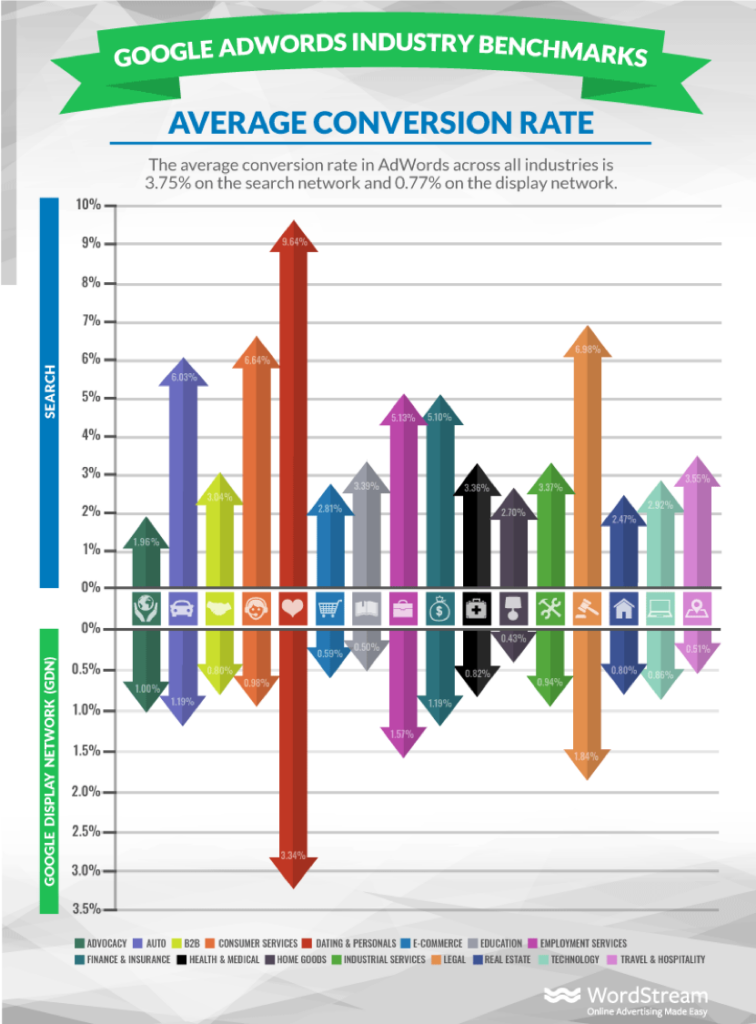 Summary on PPC Conversion Rates
The industry with the highest average PPC conversion rates was the dating & personals industry with 9.64% on the search network and 3.34% on the display network.
The industry with the lowest average PPC conversion rates was the "advocacy" industry at just 1.96% on the search network and 1.00% on the display network.
Those selling products online and classified as an eCommerce business saw conversion rates of 2.81% (so just under 3%) on the search network. That means about 97% of visitors to eCommerce sites are NOT purchasing something. Remarketing campaigns, anyone?
The legal space saw average PPC rates of around 7% on the search network.
The industry with the lowest PPC conversion rates on the display network is home goods with 0.43%.
Are your PPC campaigns converting at these rates? Every industry and client are different, so again take these with a grain of salt. It's interesting to see what the "industry" is seeing in terms of average PPC conversion rates, but what's good for one business isn't always good for another or even relevant for that business. If your PPC campaigns are suffering from low conversion rates, read our article on "Why Don't My PPC Ads Convert?" for some initial areas where you may be able to improve.
As a PPC and SEO Company in Columbus, Ohio, we routinely see higher conversion rate numbers with most of our clients. There are always exceptions, and it definitely varies by industry and client because there are just so many conversion rate variables to consider. In summary, these benchmark PPC conversion rates are a good barometer, but appear lower than what they probably should be.