Lead generation is a key business goal for many companies, especially in the professional services industry or home services industry. Referrals, word-of-mouth, emails, web forms and even traditional marketing tactics like direct mail or radio ads are all tried-and-true ways to generate leads. But, for us and many of our clients, there's nothing quite so powerful as a well executed PPC campaign for lead generation.These types of ads can help even the smallest businesses with the smallest budgets generate qualified leads to grow their business. 
What is PPC Advertising?
PPC stands for pay-per-click, a type of internet marketing used on search engines where advertisers pay each time their ad is clicked by a user. These ads can be highly targeted toward users and potential customers who are searching for particular products and services. They can also be extremely effective in driving the right people at the right time to your website or store.
When you perform a search on a search engine, PPC ads are the first few results on the page, just above the "map pack" and before organic results. This prime placement makes PPC ads coveted real estate for business owners. For example, your service business could be the first listed result on Google with a well targeted PPC ad.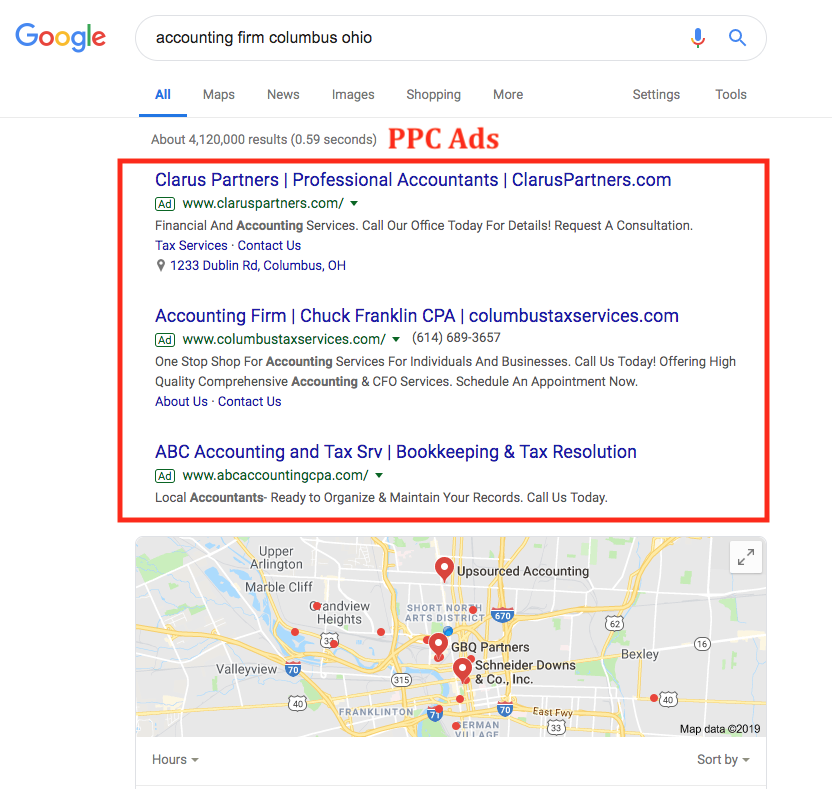 Why is PPC Advertising so Effective for Lead Generation?
There are many reasons to use PPC ads, with one of the biggest reasons being that search engines are the top place people go to find information. In fact, last year, Google received 63,000 searches per minute (that's 3.8 million searches per second), and that average number will continue to grow in the future.
That means when your potential customer is searching for goods and services you provide they are:
a) "Actively" looking for someone like you and
b) Have a higher intent of finding a provider or purchasing from someone like you.
Customers with Higher Intent
When you target your PPC ads well, you'll be capturing people who have a "higher intent" to find your services and are typically more qualified leads. Your PPC ads appear at the exact moment they are researching a business to call, or conducting their initial research on your services. This is much different than a person who sees your ads in the mail or on TV, they are not "actively" searching for your services at that time. Sure, a certain percentage of those people may in fact need your services, but when someone goes to Google to search for an "accounting firm", they are "actively" searching for someone to call or conducting their initial research before calling. 
Ad Targeting
PPC advertising also offers targeting capabilities that many other marketing tactics can't. You can focus your ads so they appear in the exact city and zip code(s) you want, as well as to the demographic(s) you want i.e. – higher income, females, parents, etc.
For example, if you are a home remodeling company that provides only premium remodeling services, you can target someone actively searching for a "home remodeling company" AND who is in one of the higher income brackets – essentially honing in on your core target at the EXACT time they are looking for someone to call.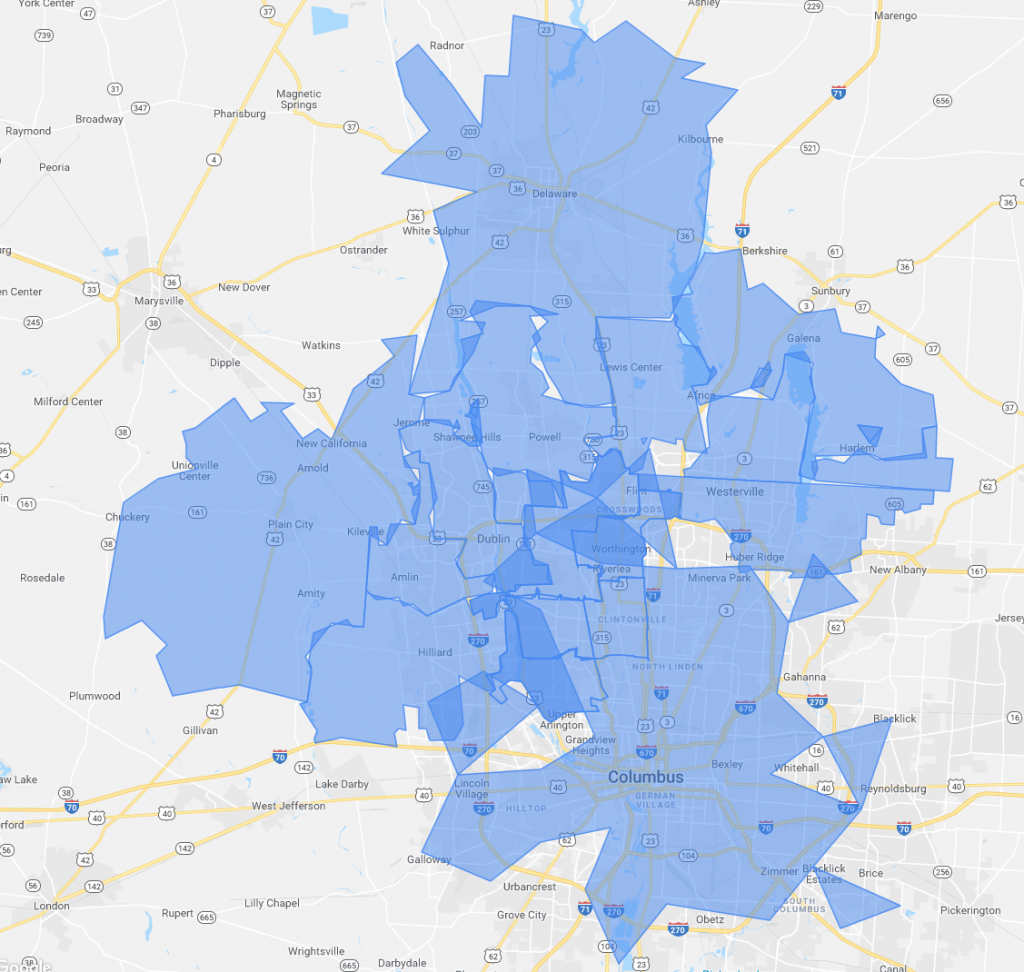 Additional Brand Exposure (at no cost)
Since you only pay when someone clicks, you get the added benefit of brand exposure if no one clicks but still sees your ad. In the example at the beginning of this post, if no one clicks on the ad for "Clarus Partners", but they still see the name of the firm, Clarus Partners gets the added benefit of having someone see their brand name without spending a dime. 
Control Your Ad Budgets
You also have control over your PPC ads and when they run, to help you control your budgets. For example:
Run ads only during holidays or busy seasons. This tactic is especially effective for service businesses like landscaping companies or painting businesses that see spikes in busy-times throughout the year.
Set budgets and cap spending.

If you only have a few hundred dollars to spend on ads per month, you can set your budget ahead of time and your PPC ad spend won't exceed your budget.

Tweak and adjust your campaigns in real time.

If you look at your analytics and notice one particular campaign or keyword is performing better than another, you can add/subtract budget accordingly to focus your budget on the best performing campaigns and keywords. 
Measurable Results (Calculate ROI)
Which leads us to perhaps one of the greatest advantages of PPC ads: they're measurable. You can see how many people are clicking on your ads, how those clicks are converting into phone calls, emails or sales and, ultimately, what your ROI is.
For example, a law firm may know that their average case is worth $5,000. If they spend $2,500 on PPC advertising and receive 20 leads, and 2 of those leads convert into a case, they have earned $10,000 on their initial PPC spend of $2,500. Their return on investment is 300%. ($10,000 – $2,500 / $2,500.
This type of data is readily available and statistics that can be tracked over time to analyze the performance of your PPC marketing spend.
Why PPC Ads Over Other Marketing Tactics?
PPC advertising has clear advantages over other marketing tactics, especially if you're tight on budget (and even if you're not). Of course, we always recommend having a good mix of marketing tactics (PPC pairs and plays especially well with SEO), but if you're a newer company, a service business or looking to re-allocate dollars from traditional marketing methods, PPC advertising can have a big impact in a short time. 
The biggest advantage of PPC advertising is what we discussed before with "active" users who are searching with "higher intent" for what you offer. Traditional marketing tactics like direct mail, radio advertising or trade magazines are competing with every other piece of information your potential customer is currently (and passively) intaking. They may not be in the market for your services at that exact time, whereas with PPC marketing, they are actively looking.
For example, if you send out a direct mailer for your dental practice, record and buy air time for a radio spot, and take out an ad in a local magazine, these tactics:
May not reach your audience in the first place (or be thrown out)

May play in the background while your intended audience is distracted

May not appear in front of your intended audience at the time they want to book an appointment.
This is not to say these types of traditional marketing tactics can't be effective. In fact, they can be great for brand awareness and can convert customers in the long term with a holistic marketing strategy. But if you're looking for a marketing tactic that reaches someone at the exact time they're thinking of booking a cleaning (e.g. they Google "dentist near me"), PPC advertising does what traditional tactics can't.
In fact, in many ways, PPC can even the playing field, especially if you don't yet have the organic search strength to keep up with your competitors. While organic search is still important overall, PPC can help fill the gap in the short term to get leads coming in.
Long term, PPC advertising is part of an effective lead generation strategy that can boost and support your business through all its phases. New product launches, service area expansions, holiday sales and promotions–anything your business needs to get in front of the right people at the right time, PPC advertising is a powerful tool in your marketing toolbelt.
PPC Marketing and Advertising in Columbus, Ohio
At Two Wheels Marketing, we focus on helping you reach your business goals. We have a diverse range of marketing skills with a focus on helping the right customers find your business at the right time. If you're ready to learn more about how PPC ads can help your business generate leads contact us today!