Digital Marketing for Bankruptcy Attorneys

Are you a Bankruptcy law firm or bankruptcy attorney looking for a digital marketing program to help generate a consistent leads to your practice?
There are a number of digital marketing strategies to help generate new leads for your firm while you work diligently to close them and assess how you can help people in need.
In this article, we'll outline 3 digital marketing strategies that bankruptcy law firms or bankruptcy lawyers can do to generate new online leads.
1. PPC Marketing for Bankruptcy Law Firms
The quickest and easiest way to generate new leads for your bankruptcy law firm is through PPC Advertising, otherwise known as Google Ads and Microsoft (Bing) Ads. PPC advertisements are the search results at the top of Google results when people are starting their initial research and "Googling" for a bankruptcy attorney.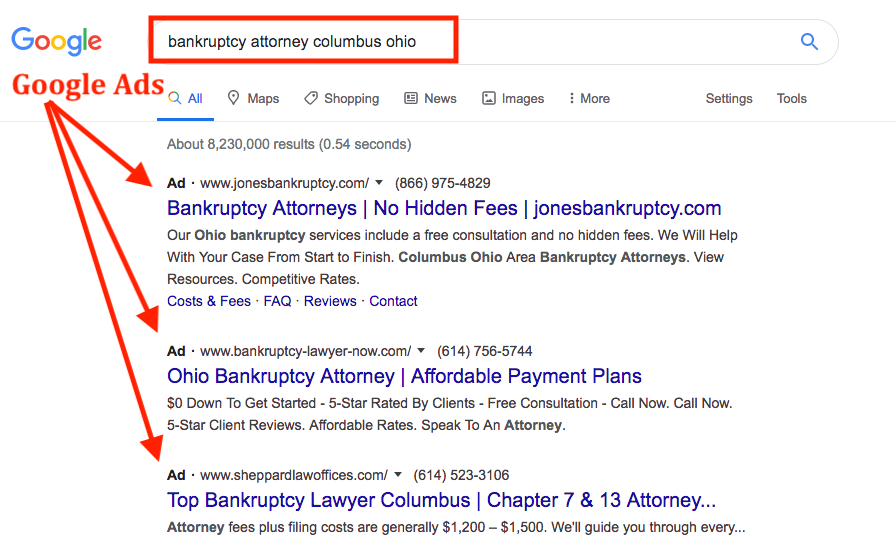 These ads for bankruptcy attorneys in Columbus, Ohio (our hometown), are VERY powerful because someone searching for "bankruptcy attorney Columbus Ohio" is actively searching for someone to call and to take their case. If your bankruptcy law firm is marketing at the top of the search results, you WILL get clicks on your ads and many times people will call your firm directly from the search results without even clicking through to your site.
From our experience as a digital marketing firm for attorneys and other businesses, we know that clients who call directly into your office from a search ad are typically VERY qualified and can be more quality leads.

How do Bankruptcy PPC Ads Work?
You or your marketing firm would create ads for your firm and bid on bankruptcy keywords that are most relevant to your practice in Google and/or Bing Ads. You are only charged when someone "clicks" on your ad, so if someone sees the ad and doesn't click on it, you still benefit from the added brand exposure of someone seeing your ads.
Our process starts with conducting keyword research for your particular bankruptcy law firm and determining the most popular keywords people are typing into the search results that relate to your particular bankruptcy practice areas. That could be Chapter 7 bankruptcy, Chapter 13 bankruptcy, Chapter 11 bankruptcy, personal or business bankruptcy or any other practice areas that are relevant for your law firm.
Bankruptcy Attorney PPC Marketing Plan
After determining your core areas, you'll want to develop a PPC marketing plan to help drive those quality searches to your website in order to convert those searches into qualified leads.
This involves setting up Google and Microsoft ad accounts, creating campaigns to target your geographic areas,
Developing ad copy that will resonate with your prospective clients
A "post click" optimization strategy. It's not enough to just have ads that send someone to your website and hope they call you. From our experience, you will see MUCH better conversion rates to leads with a landing page designed to help convert visitors more effectively - with a clear call to action (contact form) and mobile friendly "click to call" phone number so it's very easy for someone to get in touch with your bankruptcy firm.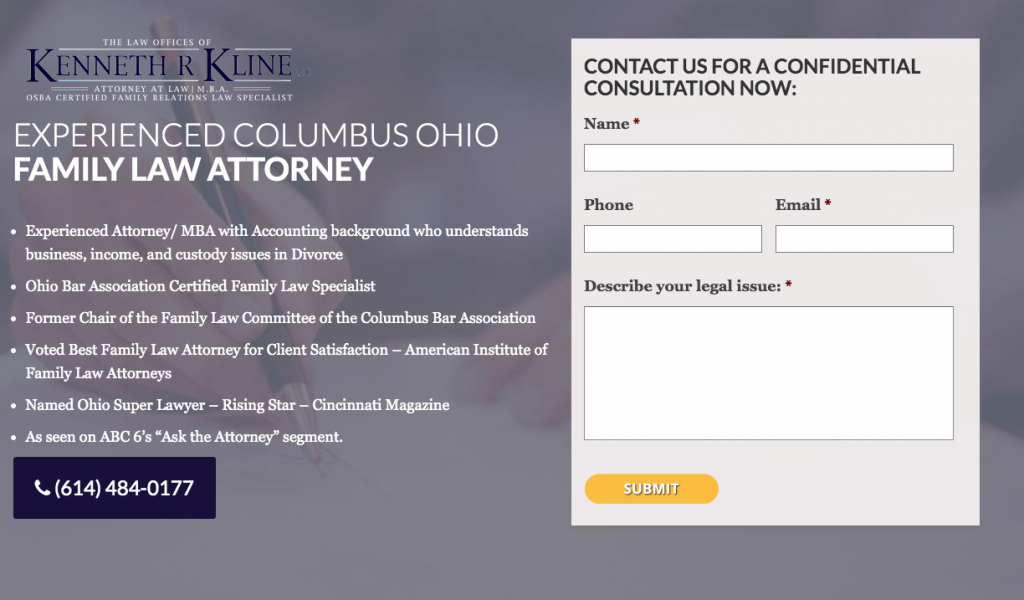 We have run numerous PPC campaigns for attorneys and other service-based businesses to help them generate a steady stream of qualified new leads. It's important to develop a holistic PPC marketing strategy from keyword research to landing page optimization in order to maximize the value of your bankruptcy PPC marketing campaigns.
2. SEO Marketing for Bankruptcy Law Firms
If PPC campaigns for bankruptcy lawyers are the "paid" results at the top of Google when someone is searching for a bankruptcy law firm, the "organic" or "free" results below the paid listings are where SEO campaigns come into play.

Getting listed in the organic SEO results below the paid listings at the top of Google is a much longer term strategy. While bankruptcy attorneys can eventually get listed in the top 10 results, it can take quite a bit of time and resource to get there. It can be even harder to get listed in the "map pack", typically that list of 3 or so law firms that Google shows directly beneath the paid results, along with a map of the area a person is searching from.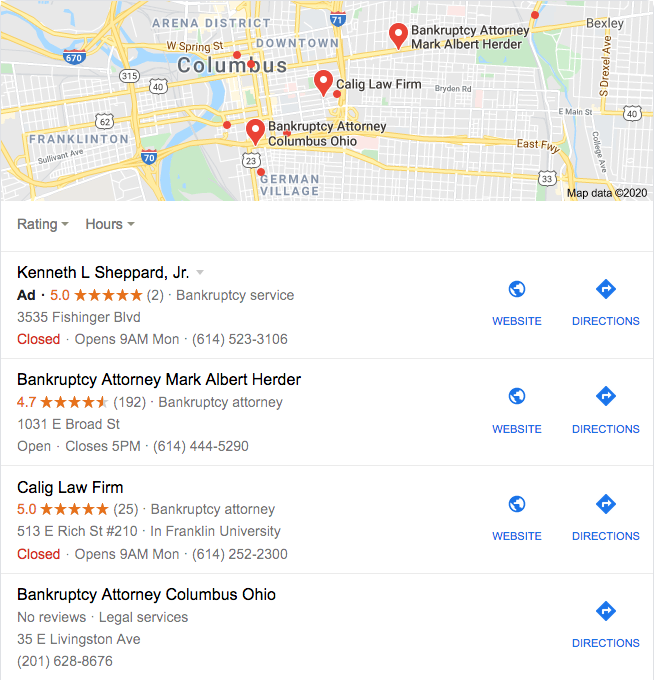 How to rank organically for bankruptcy attorney?
There are a number of different SEO strategies to help your law firm rank in the top organic SEO results for bankruptcy attorney/lawyer or bankruptcy law firm in your geographic area, so we'll cover the most important here.

Claim Your Local Listings - It's imperative that you claim, verify and optimize your Google My Business listing along with other local directories like Bing. This ensures that search engines can find your law firm, verify it's where you say it is, and can show your business on local searches for bankruptcy attorneys.
Syndicate Your Listings - In a competitive space like bankruptcy law, it's not enough to just claim your local listings, you want to ensure your law firm is listed in ALL the major local directories from Yellow Pages to Merchant Circle and all the other many local directories - there are literally hundreds. This also helps the Google's and Bing's of the world, verify your firm is legit and further bolsters your local presence. Pro Tip - Use directory syndication platforms like Bright Local or Moz Local to help get your bankruptcy law firm syndicated out to all the major SEO directories with the click of a button.
Obtain Reviews - Reviews are the heartbeat of any local SEO campaign for bankruptcy lawyers. The more reviews you have and the more positive reviews you have from previous clients, the better your rankings will be - assuming you have all the other SEO items checked off the list. Encourage as many past clients as possible to review you on Google My Business. Google (and Bing) look at these reviews to help establish how reputable and trustworthy a bankruptcy law firm is. Work diligently at strategies to help obtain more reviews from your past clients.
On-Page SEO - Everything we have talked about so far have been things "off" your website to help improve your SEO rankings for bankruptcy attorney/lawyer searches. However, do not neglect your own website. You want to ensure you are targeting the right keywords (keywords people are utilizing to find a law firm like yours), and utilizing those keywords in strategic places on your website - from the title and meta data, images, and actual copy of your website. You would be surprised how many bankruptcy attorneys have the name of their law firm as the SEO "Title Tag" and not "Bankruptcy Attorneys'! Use meta data and on-page copy to help Google better understand your practice and the bankruptcy services you provide your clients.
Technical SEO - Ensure that your bankruptcy law firm website is or has been developed and designed with SEO best practices in mind. This includes, but is not limited to, things like:

Fast loading webpages - Slow loading bankruptcy law firm websites are annoying for visitors and search engines. Ensure your site loads within 3-4 seconds tops.
Mobile friendly websites - Google loves mobile friendly websites and mobile friendly websites are an SEO factor. Make sure that all pages of your site are mobile friendly and easy to navigate. Both Google and your prospective clients will love you.
Keyword friendly URL's - Some bankruptcy blogs may have unfriendly URL's like yourbankruptcylawfirm.com/?p=10957, when it should have a more SEO friendly URL like yourbankruptcylawfirm.com/how-to-file-chapter-7-bankruptcy.

SEO Content - Ongoing SEO content, typically via the use of a blog, is imperative for the long-term growth and sustainability of your bankruptcy law firm website. Having just a few pages about your practice areas is fine and a good starting point, but limits your potential to rank for many different keywords related to your bankruptcy practice areas. For example, your bankruptcy blog could have a definitive guide on "Filing for Chapter 7 Bankruptcy", that helps you rank organically on Google for people searching for how to file. These are people that may not be looking for a bankruptcy attorney right now, but are in the beginning stages of determining how to do so. By having your blog content rank and driving them to your website, your bankruptcy firm is well positioned to be the first place this person calls when they need more assistance.
3. Online Webinars and Workshops
Up until now, we have talked about digital marketing strategies that help drive visitors to your bankruptcy law firm website and capturing the leads from your website, but don't forget about utilizing your own expertise through the use of online webinars or workshops.
Creating a quick 30-45 minute online webinar or workshop is a great way to showcase your expertise and invite people who may have an interest in learning more about their options for filing for bankruptcy. Most people will be more willing to attend a free webinar or workshop online first before calling you, so that they understand a bit more before contacting you. This may also help you by "prequalifying" some of your prospective clients, as they understand whether bankruptcy is the right action for them.
How to promote your Webinar or Workshop?
Post on your LinkedIn and Facebook Pages
Post on your website and blog
Contact your local chamber of commerce and have them promote it to their audience
Contact your local library and encourage them to let local residents know who may be interested
Contact your bar association to see if they have any resources for promoting
Use Facebook and/or LinkedIn Ads to promote to your geographic areas.
"We love Mark and the Two Wheels team for our business lead generation/ad campaigns. We have been dreading hiring a company like this because we weren't sure where to start or if it would really work, but we will never look back now. They have taken a ton of time in learning our specific business goals to find the best clients for us. Our new client intake is up 300% from this same time last year. Highly recommend, although I have now been complaining that I am TOO busy! ;)"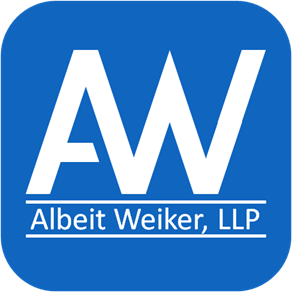 "Working with Mark Subel and his team at Two Wheels Marketing has been a remarkable success for my business. Early on, Mark took the time to thoroughly understand my specific market and what my goals were. Mark's professionalism, performance, and his ability to communicate well gives me the confidence to highly recommend his services to others."
"Mark and his team have been very helpful to us as we launch a bigger internet marketing presence. They continue to try new avenues to keep the sales activity high. Very pleased with the results over the last year we have been with them."