Right now is a golden opportunity for senior living and assisted care communities to maximize their digital marketing efforts to increase their enrollment numbers.
The market for assisted and senior living communities is anticipated to grow at a rate of 5.7% from 2022 until 2030.
Digital marketing is at the focal point of this growth. Google data reveals that online searches for assisted and senior living communities are increasing by 20% annually.
Every hour in the United States, there are 6,000 searches conducted in relation to senior living communities.
What does this mean for your strategy for increasing enrollment at your senior or assisted living facility? As web-savvy Americans continue to age, it's likely that the assisted and senior living communities capable of prioritizing their digital marketing efforts will benefit from increased enrollment.
Here's how you can use digital marketing to capitalize on this golden opportunity.
Pay-Per-Click Ads for Senior Living & Assisted Living Communities
One of the most effective tools for driving more traffic to your senior living community is pay-per-click (PPC) advertising. PPC advertising generally allows you to gain an advantage on competitors working to rank for the same keywords you are because the results typically show instantly.
What's the point of getting started with Google or Bing ads prior to making the leap into SEO? Mobile search results reveal Google Ads before showing organic listings. Starting with PPC gives your listings better odds of catching the attention of someone searching for a senior care or assisted living facility.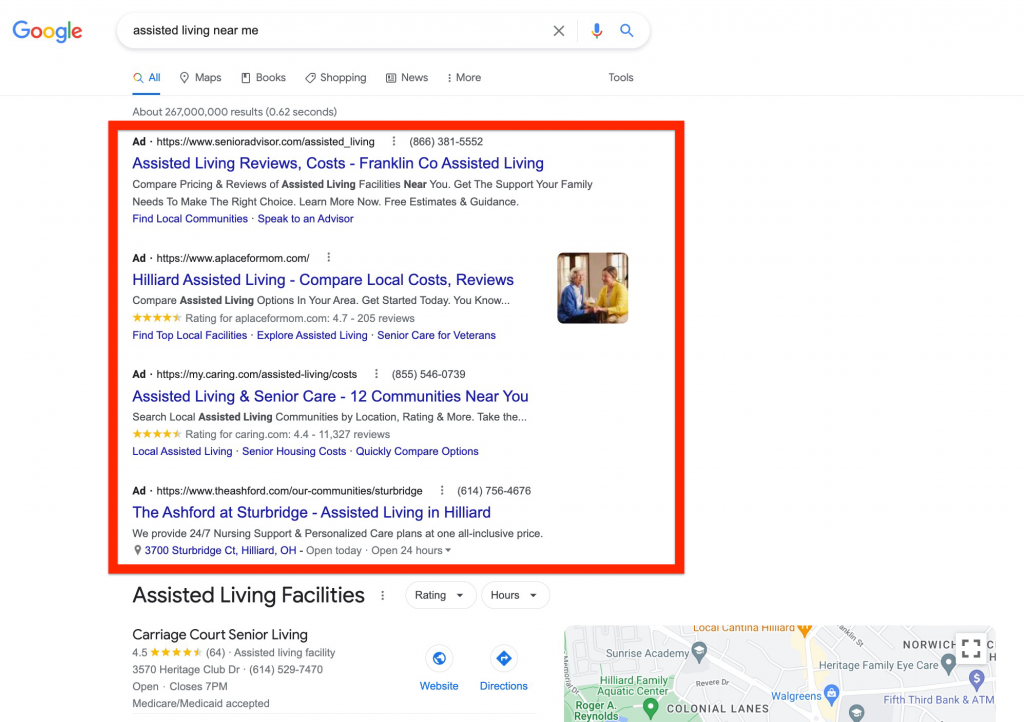 Conducting paid advertising for a senior or assisted living community is probably less complicated than you might think. The first step is creating an ad for your senior or assisted living community. The next step is bidding on keywords that make the most sense for your Google or Bing ad.
Examples of these search terms may consist of phrases like "assisted living community" or "best senior living community near me". The only time you're charged is when someone clicks on the ad, providing you with the chance to gain visibility for your assisted and senior living community for free. The free exposure comes from the paid ad being displayed at the top of search engine results pages (SERPS).
Once your senior and assisted living community begins to generate leads from your PPC strategy, it's time to begin focusing on long-term SEO efforts.
Senior Living & Assisted Living SEO
Search engine optimization, or SEO for short, helps optimize your website for search engines.Having ownership of paid positions in search results is impactful, but organic search results make it possible for your assisted or senior living community to collect traffic from those same visitors, without the PPC cost.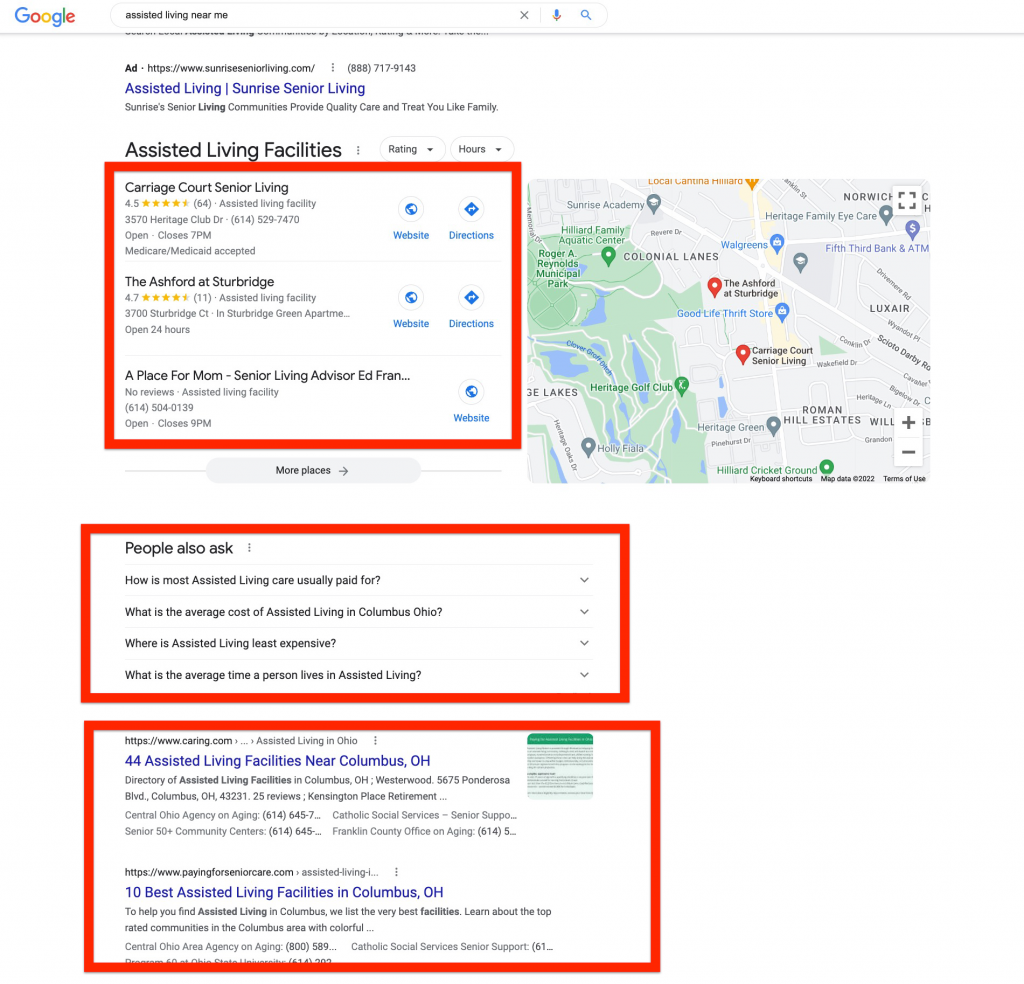 Making sense of the science of assisted and senior living SEO can be complicated, but knowing the fundamentals can be highly beneficial for driving traffic to your site. Sometimes, the smallest website updates can have an undeniable effect on how many visitors end up on your website.
It's important to keep in mind that there's no recipe for instant success when it comes to assisted and senior living SEO strategy. The objective behind SEO is taking your website into the top 10 results for multiple keywords related to senior and assisted living.
Even though there are numerous methods for achieving a high ranking organically for your senior or assisted living community, the ones worth the most effort include:
Keyword Research:
When getting your SEO strategy off the ground, conducting research on the 10 keywords that are the most prevalent within your space is probably the best place to start. Creating a list of those 10 keywords, then regularly using them in conjunction with phrases that indicate the geographical area you serve is the first step. Then, you should use those phrases in relevant content on your site, in metadata, alt text and title tags.
Quality Content:
High quality content is one of the most important ingredients in any recipe for a great senior living SEO strategy. Google regularly crawls sites, rewarding those with informative, user-friendly content with higher rankings on search engine results pages (SERPs). Ratings and review sites like Yelp, A Place For Mom and Google can also be instrumental in supplementing SEO for senior and assisted living communities.
Mobile Optimization:
Google also rewards sites that prioritize the experience of mobile users with their mobile-first indexing process. By optimizing your site for mobile and improving SEO issues on your site, you'll rank higher than your competitors who haven't optimized for mobile users.
Facebook Advertising for Assisted & Senior Living Communities
One of the best senior living digital marketing resources at your disposal is Facebook. Since so much of your target audience is active on Facebook, the opportunity to get your name and services out in front of them can't be taken for granted.
Your audience on social media platforms isn't actively on the search for senior and assisted living communities like people searching for your targeted keywords on Google are. Since that's the case, the people who click on your Facebook ads are more likely to do so out of curiosity than intent.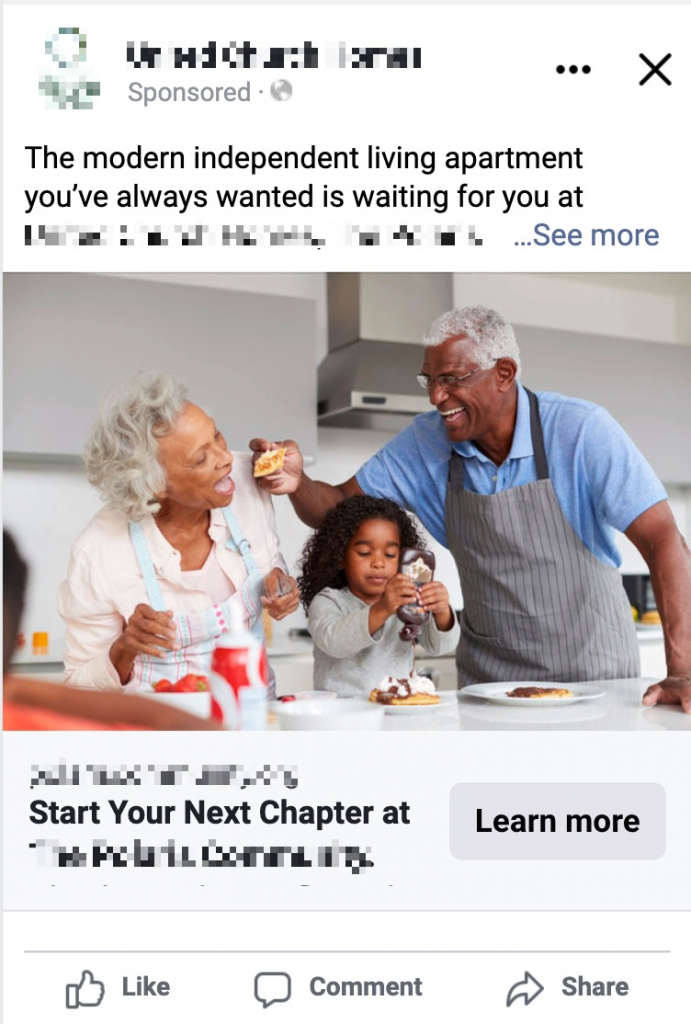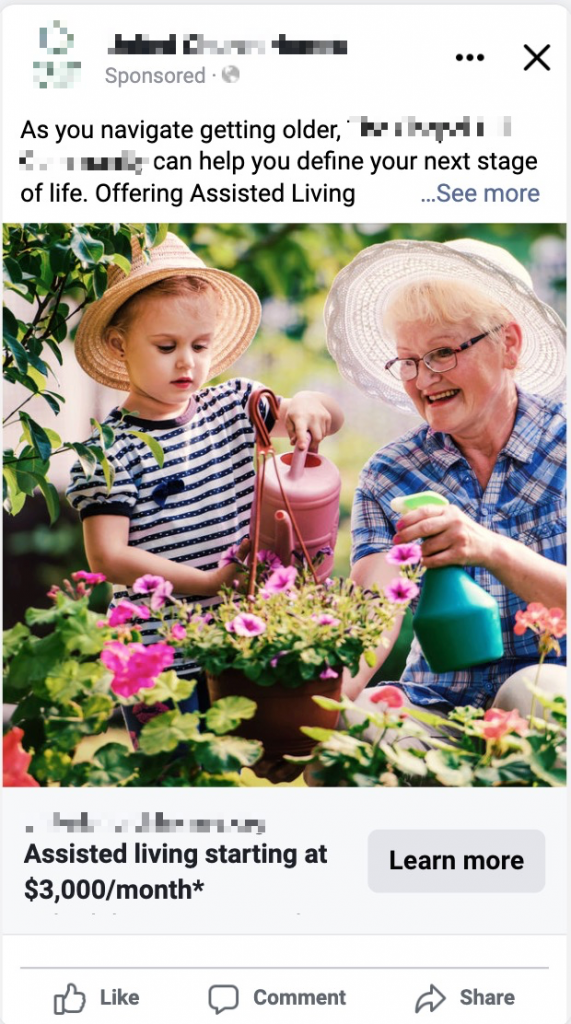 The old saying, "a picture is worth a thousand words" should be kept in mind regarding Facebook advertising. That's because images that resonate with your target audience are more likely to yield the results you want.
While senior and assisted living communities benefit from using Facebook to share blog posts, upcoming events, health news, etc. on their page, Facebook is primarily "pay to play" for businesses.
That's because organic posts to your page gets shown to only a tiny percentage of your followers.
However, ads allow you to reach your followers, website visitors, and other potential customers that have never heard or interacted with you before.
Landing Page Design & Optimization for Assisted & Senior Living Communities
A well-optimized landing page is one of the greatest tactics for increasing both SEO and overall conversion for senior and assisted living facilities. That's why simplicity is key when it comes to designing your landing page.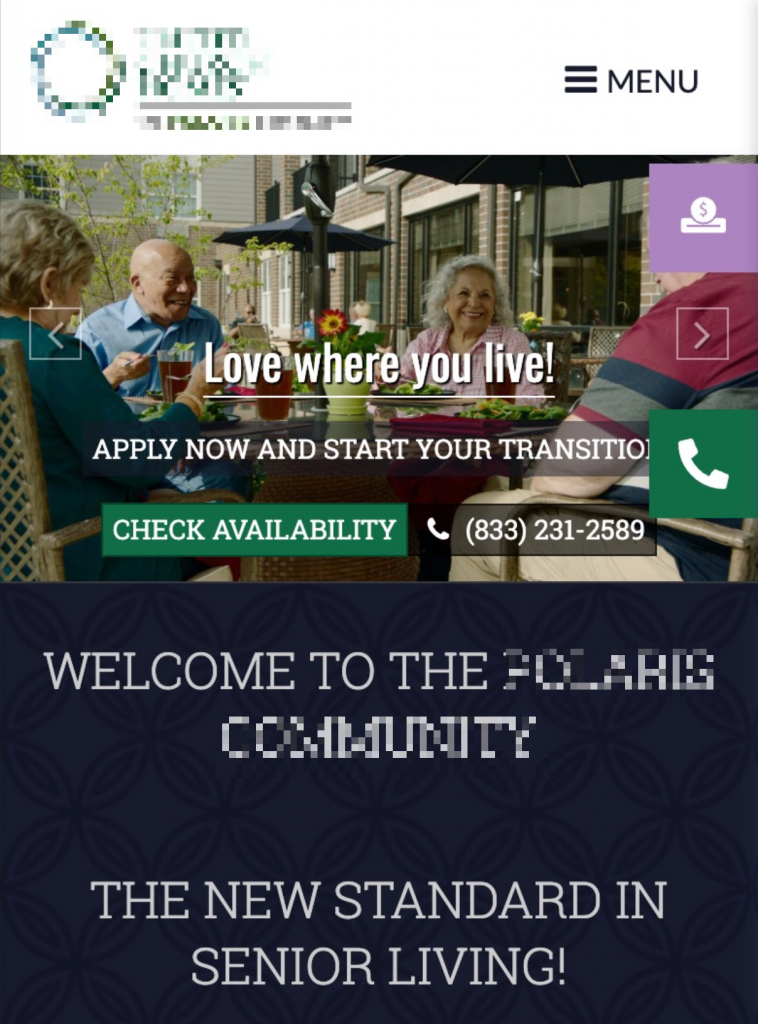 Optimizing a landing page for a senior and assisted living facility with new messaging that answers questions people often have about these communities allows visitors to seamlessly enter your sales funnel.
Some key elements of a landing page for a senior living facility include:
Call to Action (CTA): The job of a well-written CTA is to direct the visitors on your landing page to complete an objective. The landing page should be geared towards guiding visitors to take action. Those actions may include scheduling a visit, downloading an e-book or brochure, viewing a webinar, and so on.
Consistent Messaging: Ensuring your message is consistent in your ads and landing page content is essential for creating a well-optimized landing page. Doing so reinforces the idea to visitors that they are in the correct place.
Offer a Value Proposition: Including your unique selling points quickly and clearly is another surefire way to place your business ahead of the competition.
Marketing Automation for Senior Living Communities
A marketing automation platform allows senior living communities to seamlessly and automatically process their marketing efforts including communications, tracking and measuring.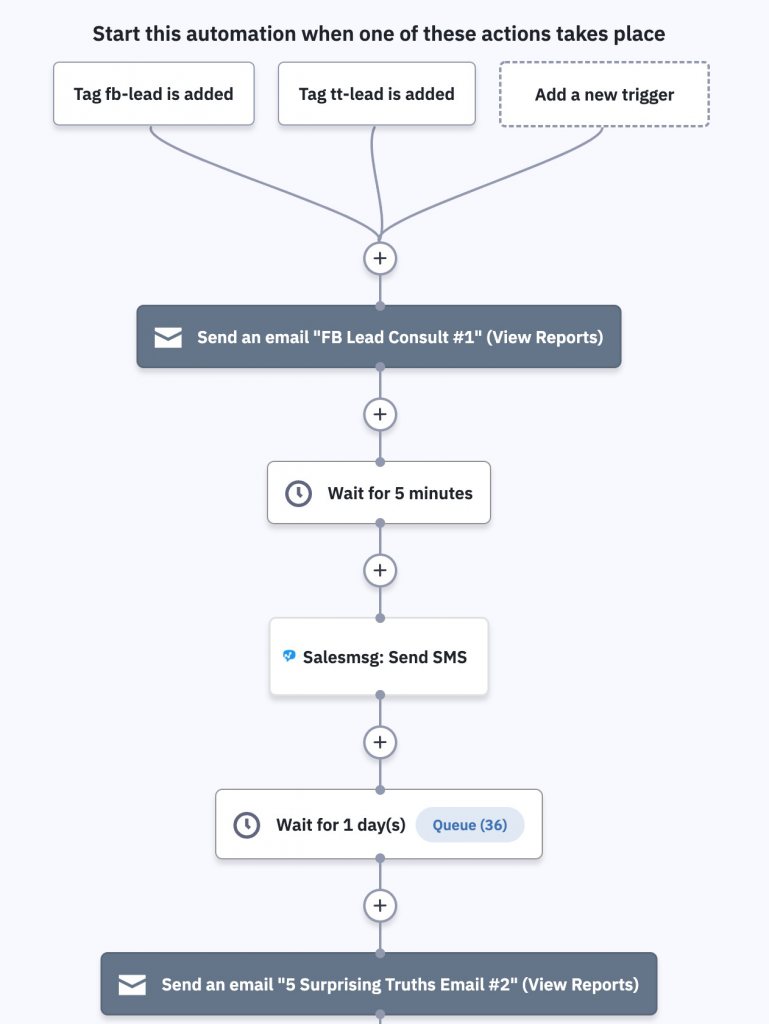 Some of the most vital aspects of a marketing automation platform include:
CRM (Customer Relationship Management) Integrations: Marketing automation platforms can often seamlessly integrate with your CRM. This can be helpful for segmentation purposes, allowing you to easily and accurately enroll contacts into sales funnels based on how they were discovered.
Email and SMS Communications: Marketing automation platforms provide the ability to send emails or text messages to leads automatically based on certain actions visitors take while on your landing page or social media platforms.
Tracking and Reporting: Taking the guesswork out of your customer journey is another benefit of marketing automation platforms. Marketing automation platforms have the ability to track who, what and when a visitor interacts with your content. This provides the insights necessary to inform changes in your senior living digital marketing strategy.
Reach More Customers with Senior Living SEO & Digital Marketing Strategy
The importance of senior living SEO and digital marketing for your business has never been more important since organic search is responsible for 70% of traffic to senior living websites.
Our experts are ready to help you with your senior living SEO and digital marketing needs. get in touch with the Two Wheels Marketing team today.
"Two Wheels Marketing has been a valuable partner in our digital marketing efforts, providing on-target strategy and management that is driving more awareness for our brand, and qualified leads to help us meet census goals. In addition to being knowledgeable, Mark and his team are quick to provide recommendations mid-campaign to better optimize results. The team is small but nimble, and a great fit for our business needs."